Cosmetics Market Overview
The global cosmetics market has been the ever-evolving landscape of the consumer and retail industry that has now grown into a multi-hundred-billion-dollar business. The beauty industry has seen significant changes over the past several years, thanks to rapidly shifting consumer preferences and their lifestyles, and consistent innovations from cosmetics companies. Owing to these factors, the global premium cosmetics market is expected to increase more than USD 44.2 billion in market size between 2020-2024, accelerating at a CAGR of 6% during the forecast period.
The cosmetics market today is witnessing a boom in the use of natural and organic ingredients in cosmetics products. This emerging cosmetics industry trend caters to the growing demand for organic or natural cosmetic products among consumers, owing to growing awareness regarding health and wellness issues of using harmful cosmetics. This shift in consumer preference for organic ingredients is extremely evident within numerous cosmetics industry segments. For instance, the global organic personal care product market is expected to increase USD 6.46 billion in market size by 2024, accelerating at a CAGR of 8%, while the market for organic skincare products also is growing at a similar pace, owing to the demand for multifunctional organic skincare products.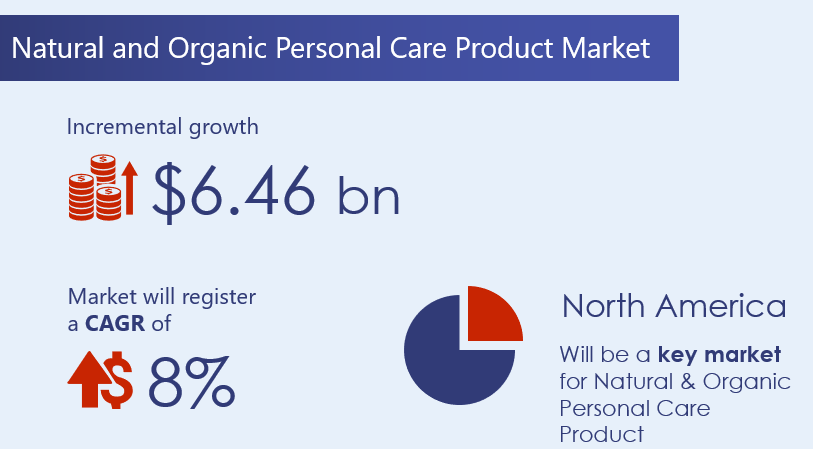 For more insights on the Cosmetics Mаrkеt Trеndѕ, Growth Oрроrtunіtіеs, and the Growth Potential of sub-markets
Request for a FREE sample now!
Cosmetics Market Insights
The global halal cosmetics market will increase nearly USD 26 billion between 2016-2021, surpassing USD 52 billion in market size by the end of the forecast period.
Owing to reduced toxicity and high durability, consumers are demanding for products that don't harm the skin. In addition, rising sales of luxury products and growing middle-class aspirational spending are driving the growth of the cosmetics market.
The eye makeup segment is one of the fastest-growing within the cosmetics market owing to rising demand for waterproof eye makeup products, especially during the summer season. Waterproof eye makeup products have been gaining huge popularity as these product lines can fight humidity and heat, without affecting the quality of the makeup.
The availability of non-toxic solutions for nail care will be one of the key factors having a positive impact on nail care market growth during the next few years. The rising awareness among health-conscious consumers about the non-toxic and chemical-free offering has increased the demand for several organic nail care products, which in turn will propel the cosmetic market growth.
Cosmetics Market Share and Segmentation
Within our cosmetics industry research, we provide deep insights into the market landscape, its segments, and their market share. Our research experts segment this market by hair products, skincare products, color cosmetics, and fragrances.
Our cosmetics market segmentation research offerings include:
Hair Care Products Market

Hair shampoo market
Hair color market
Hair spray market
Hair conditioner market
Hair styling equipment market
Hair serum market
Hair gel market
Skin Care Products Market

Body lotion market
Facial care products market
Premium skin care products market
Anti-aging products market
Sun care products market

Sun protection products market
After sun products market
Self-tanning products market

Organic skin care products market
Color Cosmetics Market

Face make-up market
Face masks and peels market
Eye makeup market
Lip care products market
Nail care products market
Halal cosmetics market
Fragrances Market

Deodorant market
Perfume market
We at Technavio, with our comprehensive understanding of the cosmetics market, have been monitoring the latest industry trends and developments to create an in-depth portfolio of market research reports. These reports help our clients identify opportunities within the market and develop effective strategies to optimize their market positions. Our cosmetics market reports offer the following insights:
Cosmetics market share
Cosmetics market growth
Cosmetics market size
Cosmetics market forecast
Cosmetics market trends
Cosmetics industry statistics
Cosmetics Market Research Reports
Hair Care Products Market
Skin Care Products Market
Color Cosmetics Market