Hair Care Industry Overview
The size of the global hair care market will increase by over USD 4.9 billion between 2020-2024, accelerating at a CAGR of more than 1% during the forecast period. This growth in haircare market size will be attributed to numerous factors including a host of technological, environmental, and economic changes driving demand for more naturally derived ingredients and innovation, as well as portfolio extension leading to product premiumization. This market is especially flourishing in the United States, where revenue is expected to increase by USD 1.15 billion between 2020-024. Our latest hair care industry analysis highlights that the United States haircare market is being driven by demand for new and innovative hair care products as consumers are showing the willingness to pay more for these products.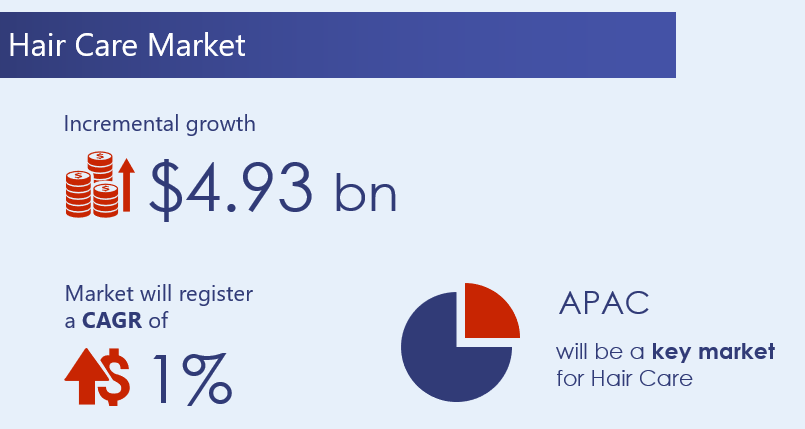 For more insights on the Hair Care Mаrkеt Trеndѕ, Growth Oрроrtunіtіеs, and the Growth Potential of sub-markets
Request for a FREE sample now!
Several emerging trends are expected to gain traction and positively impact the global hair care market by 2023. These top trends include the increasing demand for natural and organic hair care products, the introduction of products with an added value proposition, and a rise in online sales of hair care products. Online sales of hair care products are expected to increase significantly as consumers lack time to visit physical stores to purchase products owing to their hectic lifestyle.
Latest Reports
Hair Care Market Insights
Innovation and portfolio extension leading to product premiumization are the major factors driving the growth of the hair care market.
Numerous hair care brands are increasingly using natural and organic ingredients driven by consumer demand for these products over products containing hydrofluorocarbons, formaldehyde, fragrances, and micro-particles of other ingredients. Manufacturers are launching organic detanglers, protective and styling serums, and volumizing products in spray formats to cater to the growing number of consumers who are wary of synthetic components.
Over the last few years, growth in the hair conditioner market has been encouraging, thus prompting new entrants to gain a foothold in niche segments. In an attempt to increase their market outreach, vendors are investing heavily in web branding and marketing initiatives.
Introduction of customized products will be a primary growth factor for the professional hair care products market. Professional haircare products manufacturers are increasingly investing in developing customized products and hair care treatments to suit the specific requirements of customers.
View more hair care market growth insights and hair care industry trends: Download a free sample report now
Hair Care Market Share and Segmentation
Within our hair care market research, we provide deep insights into the market landscape, its segments, and their market share. Our hair care market segmentation research offerings include:
Professional Hair Care Market

Professional hair colorant market
Professional shampoo and conditioner market
Professional hair styling products market
Professional straightening and perming products market
Shampoo Market

Cosmetic shampoo market
Herbal shampoo market
Dry shampoo market

Hair Colorant Market

Powdered hair color market
Hair dye market
Hair Conditioner Market

Deep conditioners market
Rinse-out conditioners market
Leave-in conditioners market
Hair Styling Products Market

Hair-styling mousse market
Holding sprays market
Heat protectants market
Hair spray market
Hair serum market
Hair gel market
Hair Oil Market

Light hair oil market
Heavy hair oil market
Cooling hair oil market
In addition, Technavio's research within these segments highlights that a high penetration of salon services, increasing demand for professional products, and changing grooming patterns - especially among male consumers – is accelerating global hair care market growth. The increasing demand for clean label products, coupled with a rising number of health-conscious consumers is aiding the organic hair care market growth.
We at Technavio, with our strong expertise in the hair care market research field, have been tracking the latest hair care industry trends and changes to create a comprehensive library of global haircare market reports.
Our hair care industry report portfolio offers the following:
Hair care industry trends
Hair care industry statistics
Hair care market size
Hair care market growth and forecasts
Hair care market drivers and challenges
Hair care market opportunities and challenges
Hair Care Industry Research: Report Catalog
Shampoo Market
Hair Colorant Market
Hair Styling Products Market
Hair Oil Market