Sports Apparel Industry Overview
The market for fitness and sports apparel is expected to increase by over USD 50 billion between 2018-2023, accelerating at a CAGR of 5% during the forecast period. This growth in market size will be attributed to increasing health awareness worldwide and continuing popularity of fitness activities such as yoga, running, aerobics, and other gym activities. Additionally, technological advances in sports and fitness wear are also driving the sports apparel market, as market participants are striving to improve their sports and fitness wear line year-over-year. These technological advancements offer numerous advantages. For example, thermal technology has been gaining popularity because it reacts to temperature and helps in keeping the body warm during colder conditions and climates.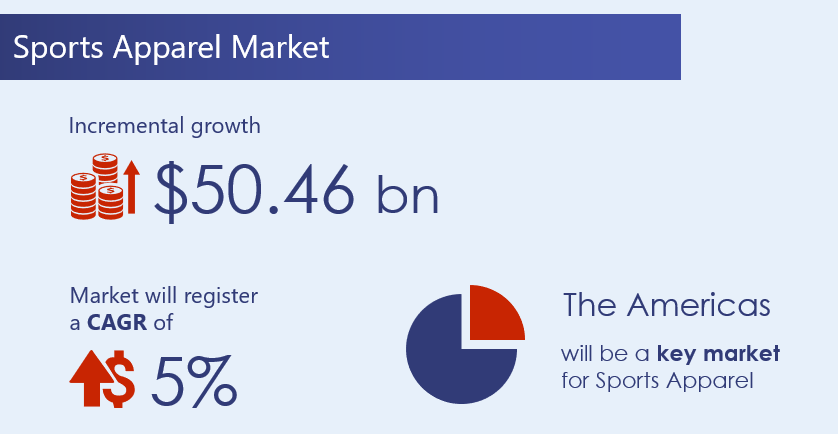 For more insights on the Sports and Fitness Wear Mаrkеt Trеndѕ, Growth Oрроrtunіtіеs, and the Growth Potential of sub-markets
Request for a FREE sample now!
One of the major sports apparel industry trends taking place is the increase in women participating in sport. This trend has led to major sports apparel industry companies putting more of an emphasis on sports apparel designed for females, as they try to capture more of the women's sportswear market share. Other emerging trends that will positively impact the market during the forecast period include the growth in the number and membership of health and fitness clubs and the advent of customized and personalized sports apparel.
Latest Reports
Over the past few years, the sportswear industry has also become more fashionable thanks to athleisure wear. The growing popularity of athleisure is becoming not only a sports apparel industry trend but a fashion industry movement as well. Thanks to improved textile materials, sports apparel has become more versatile, allowing consumers to wear clothing designed for workouts in other settings such as at the workplace and social outings.

Sports Apparel Market Insights
The sales volume of sports apparel is increasingly growing around the world in various sports activities. The rising number of sports tournaments is one of the major factors driving the growth of the sports apparel market.
An increasing number of celebrity endorsements is positively impacting the market. Launching campaigns and promoting products by famous athletes is an old and effective marketing strategy undertaken by most apparel manufacturing companies. This increase in promotional activities will further propel the growth prospects for this market.
The increasing preference for outdoor recreational activities due to the physical and mental benefits of such activities is expected to aid the market's size increase over the next few years.
Sports Apparel Market Share and Segmentation
Within our sports apparel industry research, we provide deep insights into the market landscape, its segments, and their market share. Our research experts segment this market into sports apparel garments, specialized sports apparel, sports undergarments, athleisure, sports footwear, and sports protective wear.
Our sports apparel market segmentation research offerings include:
Sports Apparel Garments Market

Tracksuits Market
Shorts Market

Boardshorts market
Gym shorts market
Running shorts market
Boxer shorts market
Tennis skirts & skorts market

T-Shirt Market
Polo Shirts Market
Compression Garments Market

Compression shorts market
Compression shirts market
Compression tights market
Compression socks market
Compression sleeves market
Compression underwear market
Athleisure market

Yoga Apparel Market
Tights Market
Sneakers Market
Leggings Market
Athleisure Shorts Market
Sports Footwear Market

Athleisure Sports Footwear Market
Running Sports Footwear Market
Court-Game Sports Footwear Market
Cleats Sports Footwear Market
Skates market

Ice skates market
In-line skates market

Riding Boots Market
We at Technavio, with our comprehensive understanding of the sports apparel industry, have been monitoring the latest sports apparel industry developments to create an in-depth portfolio of sports apparel market reports that are based on a broad knowledge of this textile market sphere. Our sports apparel industry analysis covers the following:
Sports apparel industry overview
Sports apparel industry statistics
Sports apparel market share
Sports apparel market size
Sports apparel market forecast
Sports apparel market growth
Sports apparel market trends
Sports Apparel Industry Analysis – Report Catalog